Smart Flow will make your surgical flow smooth sailing!
First ever veterinary Electronic Anesthetic Sheet
Wireless connection with numerous anesthetic monitors
Anesthetic protocol templates
Digital surgical whiteboard
No more scanning or filing the paper anesthetic sheet!
5 steps to make your Surgery Day flow: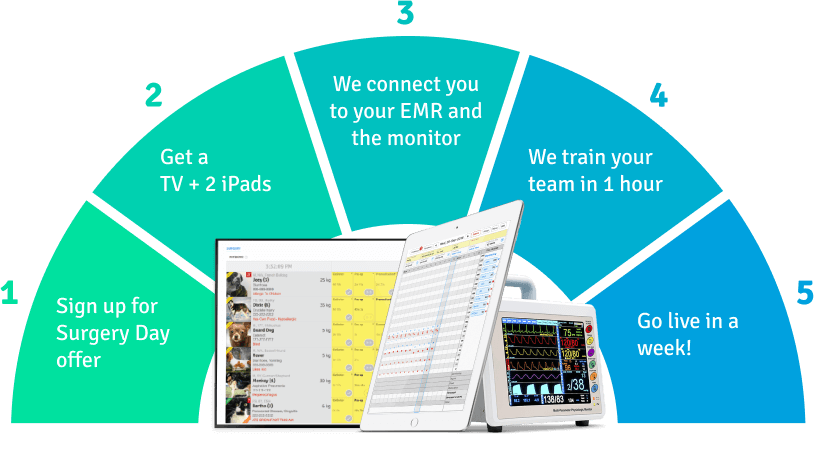 Smart Flow Surgery Day Setup
Do you get wary of all the extra work associated with surgery days? From checking in the surgery patients to the billing, Smart Flow has got you covered.
With Smart Flow, you can create your known surgery cases into Smart Flow the evening before, create a consent form at the touch of a button that the owners will need to fill out, thereby being able to verify their own information (no more misheard phone numbers or email addresses!), after which you can bring their pet into the treatment area.
Smart Flow can save templates with the drugs, at set dosages, and calculate them based on the given weight of the patient and write it all down for you. You can save numerous amounts of templates, per-doctor, per-surgery, both even. So from the patient that you've created in Smart Flow, with the signed consent form, you can also get a calculated drug plan based on the template that you picked.
You're trying to monitor the patient, write down values on the anesthetic sheet on your clipboard, making sure that the patient is in a deep enough anesthetic plane without being too deep. Also while making sure they're breathing right, making sure that you remembered to open the pop-off valve, that you keep time to give cefazolin when they need it, that fluids are running correctly. It's a lot to deal with, isn't it?
With Smart Flow's Anesthetic sheet, you can write down values in 10 seconds, tops. It can even be auto-populated for you if you have an anesthetic monitor that connects with Smart Flow. It will even remember previously entered information, so if the respiratory rate is the same, you won't even have to type anything.
Our electronic anesthetic sheet is something every technician monitoring surgery deserves - it's simple, easy to use, and frees up a whole lot of time, meaning more focus on your patient, rather than on the paperwork.
Finally, the billing. With Smart Flow, every time you indicate in a patient's flow sheet that you did the procedure or gave the medication, if it is set as a billable item it will collect on a billing report PDF. A one-stop overview of everything that was done to the patient that needs to be billed for, perfect for the end of shift billing. And if your practice management software is integrated – we can automatically charge the patient's account.

Surgical Consent Form
Smart Flow now has a full-featured form designer! You can recreate virtually any form you have on paper using our designer (or have our support team to do it for you).
Speed up the admission process using self-service forms
Save money on paper keeping all documents and forms digital
Keep all forms neatly organized in Smart Flow & your EMR automatically

Surgery Whiteboard
With a super cool surgical whiteboard, handling your surgical patients will be smooth sailing. You'll be able to keep track of surgical tasks and see all patients in-hospital at a glance!

Anesthetic Sheet + Integrations with Monitors!
The Electronic Anesthetic sheet will map your vet patient's vitals, calculate medications, and give you the ability to monitor the patient instead of the paper.
Even better? We populate values automatically from select monitors, saving valuable time and resources.
List of supported monitors:
Digicare: LW8, LW8 Lite and LW9x
Bionet: BM1vet, BM3vet, BM3vet touch, BM5vet and BM7vet
DRE: DRE Waveline EZ, Waveline Touch and Waveline PRO
Vetland: VP-700, VP-1000, VP-1200, V1407, V1410 and V1412
Cardell: 9401, 9402, 9500 & Touch

Efficiency Tracker
Smart Flow provides analytics on all events you select to be tracked. It's an effortless analytics tool that can boost your practice's performance!
Determine how long admissions usually take
Compare surgical times between different doctors
Locate bottlenecks in your workflows and optimize them based on hard data rather than a gut feeling!